I want to live in a world where every person has the ability to heal themselves, find clarity, and dream big.
It's with great reverence that I bring Kambo to those in Chicago, Illinois and the Midwest.

As a Master Kambo practitioner- I attend to those receiving Kambo, ensuring a safe, supportive, and empowering experience. I've always had a passion for listening to people and their stories- I believe it's important to honor your journey up to this point, as you step into a new direction in your life.
Some of my knowledge and experience comes from:
Plant dietas
Peru and Brazil- throughout the years, traveling to work with plant medicines
Over 6 years of personal study working with Kambo
Over 5 years of practice on clients- over 850 sessions facilitated
Learning under my teachers:
Master Practitioner Simon Scott
Master Practitioner Karen Darke
Master Practitioner Ginny Rutherford
Master Practitioner Steve Dumain
Training through Kambo International and the International Association of Kambo Practitioners
-Practitioner and Advanced Practitioner training through the IAKP
-Advanced and Master Practitioner training through Kambo International
Pattern coaching and life cultivation through RenXue
Here are some incredible ways we can work together:
Kambo ceremony
One group session- $150 per person (Group is 2 or more people)
Private session- $200
Kambo self administration training- I offer in depth training to teach you how to self apply Kambo. This may be for your own personal use, or as a prerequisite to becoming a practitioner through Kambo International.
-Two day training- learning simply how to apply Kambo to yourself. Creating a safe space, burning points, mixing medicine. $600
-Four day training- going deeper into yourself and the study of Kambo. This includes history of Kambo, sananga, and hape, holding space, safety, burning points, mixing medicine, and beginning exploration of our patterns of consciousness. This is the foundation for becoming a practitioner should you wish to follow that path. $950
When people ask me how often to come back for Kambo, or how many sessions they should do, I always say it's important to tune into yourself– you can get an intuitive sense of when it's time to revisit your froggy companion!
It can be helpful in some instances to receive Kambo 3 days in a row, or 3 times within a moon cycle. Generally, this is when a culmination of both the physical and energetic properties can help "push" a person through what they're working on. Clarity and realizations tend to arise during this time.
By committing 3 days in a row, you'll work with Kambo in a deeper way. Each session builds upon the previous. It's like learning to work with a new tool, and it really helps to get a sense of how Kambo works in your mind and body. I liken it to a relationship with a person- the more time you spend together, the more intimately you understand each other 🙂
Some clients like to receive Kambo before their Ayahuasca retreat. Kambo can help clear the way physically, so that when you sit with Aya she doesn't have to spend time "cleaning up"! That way she can get right to the deep work.
In choosing to work with a Kambo International practitioner, you're helping support those tribes who have the utmost care and respect in harvesting Kambo. They are the true guardians of the forest and frogs.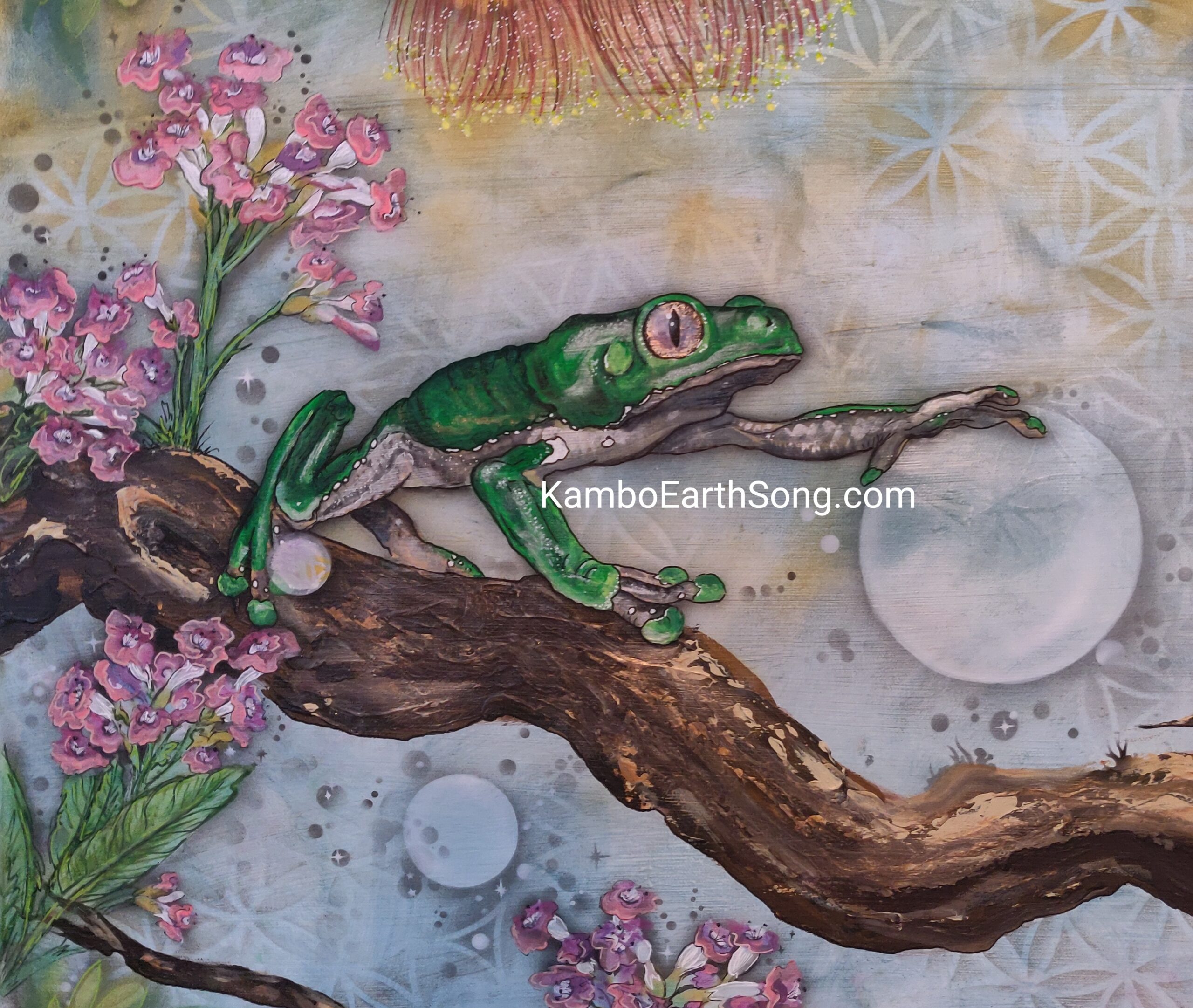 "There is definitely a mysterious and magical aspect of Kambô. Taking Kambô on a regular basis brings everything back into balance, physically, emotionally and energetically. It clears away obstacles in life, rids us of unhealthy thinking, and unpicks negative conditioning. You cannot hide from Kambô — it brings out all of your 'shit' and forces you to face it and deal with it.
For many people it's a very challenging journey, but despite that, everyone senses the depth of love that the Kambô spirit generates. Kambô cleans our energetic field, putting us in a very receptive state wherein everything flows easily and naturally and we are surrounded by a green light that draws in what we need in life."
~Karen Darke
THE WORK
For those who are already experienced with diving into the depths of themselves and all that entails, "the work" will already have been something you've experienced.
Those who are new to this process, it can be summed up pretty simply: the work is what we do between ceremonies to apply what we've learned during these sacred rites. Otherwise known as integration. Quite considerably, the most important part!
A safe, sacred space is created for you to explore and release whatever may arise. Once you leave, the outside reality unfolds to accommodate and perhaps bring forth lessons to support you further.
In society, we have some people who would rather do what they can to silence that voice within that's wanting to be heard. Whether through drugs (pharmaceutical, alcohol, recreational) distraction (TV, internet, endless activity) or outright denial, it's possible to suppress that voice that knows what's truly best for us. What are the reasons why, though?
Would the bold truth create a catalyst for things to change, to shift?
Kambo is 100% pure truth.

The path of truth can certainly contain lessons that hold varying degrees of intensity. Sometimes Kambo can "exaggerate" an aspect, to make sure we get the message. An example I experienced was with negative thinking. After having Kambo, my negative thinking didn't go away- in fact, it got kicked up a notch! So much so, that it really became too much. It was then after having felt how unbearable it was, that I made the solid choice to do things differently. It didn't just "go away" as it would have if I'd taken drugs or drank. Kambo empowered me by helping to choose differently.
By removing our everyday filters, we can see things clearly. What a magnificent frog!!